Cuando el nombre del restaurante incluye la palabra langosta, la decisión acerca de que pedir es fácil. Muchas veces los platillos más sencillos son los que nos dicen más acerca de la cocina de un restaurante. Justamente esto fue la ideología que seguimos al ordenar nuestra comida en Luke's Lobster, ubicado dentro de City Kitchen.
Nuestro Dapper Pick es el Lobster Roll del restaurante fundado por Luke Holden. Se nota que creció en una familia dedicada a la pesca de langosta, ya que solo los mejores ejemplares son usados para cocinar este platillo, declarado el mejor rollo de langosta en la ciudad de Nueva York. Su preparación, minimalista si le podemos llamar así, incluye pocos ingredientes como mayonesa, mantequilla y algunas especias, dejando que el ingrediente principal sea el que destaque.
---
When a restaurant's name includes the word lobster, the decision on what to order is easy. Sometimes the simplest dishes are those who tell us more about a restaurant. This was precisely the ideology we followed when we ordered our meal at Luke's Lobster, also located within City Kitchen.
Our Dapper Pick is the Lobster Roll from the restaurant founded by Luke Holden. It is obvious that he grew up in a family dedicated to lobster fishing, as only the best specimens are used for cooking this dish, declared the best lobster roll in New York City. The preparation of this dish; minimalist if we can call it that way, has very few ingredients like mayonnaise, butter and some spices, allowing the main ingredient to be the one that stands out.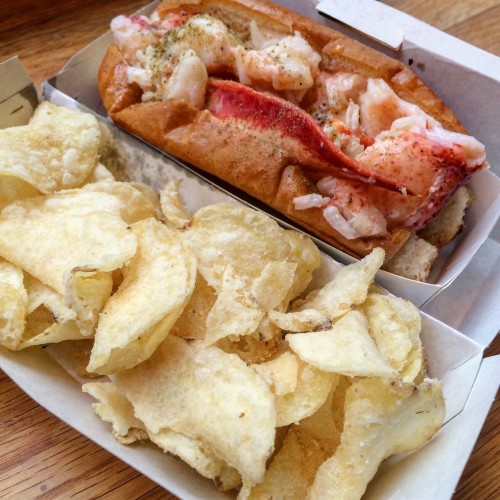 Fotografía tomada con un iPhone 6/ Picture shot on an iPhone 6