Durante nuestra más reciente visita a la Gran Manzana, descubrimos City Kitchen un concepto muy original y único, ya que reúne diferentes propuestas gastronómicas de Nueva York. Los visitantes y locales se pueden deleitar con los mejores platillos – sin tener que trasladarse para probarlos. Ninguna zona de la ciudad se dejó atrás, desde Brooklyn al Upper West Side – y todo lo que se encuentra entre estos puntos. El resultado: restauranteros fuera de serie entregando las creaciones más deliciosos a la mesa de City Kitchen.
Nuestro primer Dapper Pick no es un platillo fuerte, sino una guarnición que resultó ser la gran estrella de ilili BOX: las coles de Bruselas. Preparadas con una mezcla de uvas, mermelada de higo, vinagre de jerez, nuez y yogurt de menta, la combinación de texturas y sabores lo convierten en una parada obligatoria en este local de comida mediterránea.
También el servicio es una de las razones por la cual ilili BOX es nuestro primer Pick de la semana; tanto los cocineros como la gente de la caja son especialmente amigables y nos recomendaron diferentes platillos para hacer de esta experiencia la que recordamos con más gusto.
---
During our most recent visit to the Big Apple, we discovered City Kitchen, a very original and unique concept that brings together different gastronomic proposals from New York. Visitors and locals can be delighted with the best dishes – without having to move throughout the city. Every neighborhood has been taken in consideration, form Brooklyn to the Upper West Side. The result: a great selection of vendors delivering the most delicious creations to the table of City Kitchen.
Our first Dapper Pick is not a main dish, but a side dish that turned out to be the star of ilili BOX: Brussels sprouts. Deliciously served with a mixture of grapes, fig jam, sherry vinegar, walnut and mint yogurt, the combination of textures and flavors makes it a must in this Mediterranean food vendor.
Also the service is one of the reasons why ilili BOX is our first pick of the week; the chefs and the cashiers are especially friendly and recommended us different dishes to make this experience the one we will remember with more affection.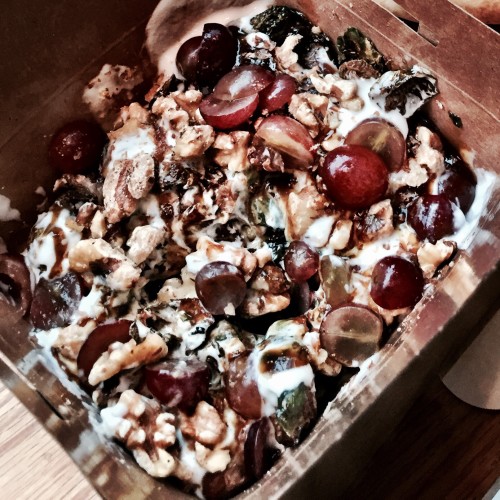 Fotografía tomada con un iPhone 6/ Picture shot on an iPhone 6