El segundo Dapper Pick de la semana es una difícil decisión, ya que si algo encontramos en Dough fueron muchas buenas opciones para empezar el día. El puesto de donas, que tiene diferentes ubicaciones en la ciudad de Nueva York, también forma parte de City Kitchen. Un docena de diferentes variedades nos espera y aunque queremos probar todas nos decidimos por 2: la famosa dona de dulce de leche y el especial de la semana: Donas de chocolate belga rellenas de caramelo salado.
Lo suficientemente grandes para dejar satisfecho a cualquier estómago con antojo de algo dulce pero aun así no empalagan. Complementamos este desayuno de campeones con un café recién hecho y estamos listos para seguir explorando la ciudad.
---
The second Dapper Pick of the week is a difficult decision, because something we found in Dough were too many great options to start the day. The donut vendor, which has different locations throughout New York, is also a part of City Kitchen. A dozen different varieties lay before us and although we want to try them all our selection finally comes down to two: the famous dulce de leche donut and the special of the week: Belgian chocolate donuts filled with salted caramel.
The donuts are large enough to satisfy any stomach craving for something sweet but still not cloy. We complement this breakfast of champions with a freshly brewed coffee and we are ready to further explore the city.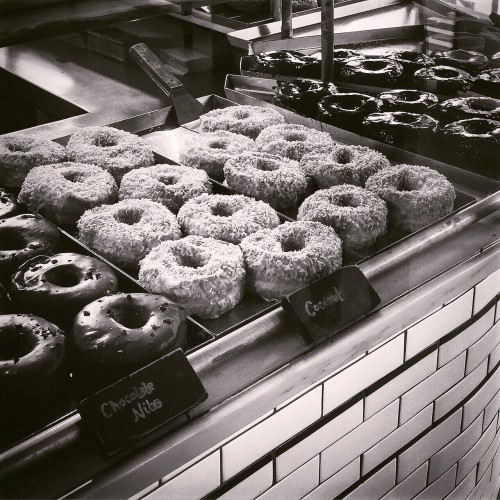 Fotografía tomada con un iPhone 6/ Picture shot on an iPhone 6