Te presentamos las velas más lujosas y sofisticadas en el mundo. Se trata de una tradición fundada desde 1643 por Claude Trudon en la Rue Saint Honoré en París. La casa productora de cirios y velas logró cautivar las cortes de Versailles, Luis XV y al mismo Napoleón posicionándose como el proveedor real de velas con esencias aromáticas por excelencia.
Las velas de Cire Trudon están hechas de una manera tan sofisticada que pareciera que cada una se tratase de una obra de arte. El vidrio está hecho a mano en Toscana, la cera es blanqueada cuidadosamente, el pavilo está hecho de 100% algodón, el aroma perfeccionado por las mejores narices y para finalizar son decorados con su emblema característico del panal de abejas que hace alusión a su historia de siglos.
Cada vela cuenta una historia diferente. Se trata del olor de Notre Dame a través del tiempo con los inciensos y la resina de Benzoin (Spiritus Sancti). O bien de las frutas cítricas y jengibre de un mercado hindú con su típico olor a Patchouli (Pondichéry). Las velas son una tradición que te abre a través del olfato una ventana para transportarte a lugares mágicos, las puedes encender para estar en tu soledad, o bien para aromatizar una sala antes de la llegada de tus invitados.
Te invitamos a conocer alguna boutique de Cire Trudon, sólo se encuentran en París, Londres y próximamente Nueva York. Es toda una experiencia sensorial, y además cuentan con sus diferentes colecciones temporales como la de Navidad, o sus vaporizadores de cuarto que no faltan en las mejores mansiones de la socialité francesa.
---
We would like to present the most luxurious and sophisticated candles in the world. It is a tradition founded since 1643 by Claude Trudon on Rue Saint Honore in Paris. The production house of candles managed to captivate the courts of Versailles, Louis XV and Napoleon himself positioning itself as the purveyor of candles with aromatic scents for excellence. 
Cire Trudon candles are made in such a sophisticated way that it feels like each were a work of art. The glass is handmade in Tuscany, the wax is bleached carefully, the pavilo is made from 100% cotton, scent perfected by the best noses and finally are decorated with a characteristic emblem which refers to its anient history. 
Each candle has a different story. It is the smell of Notre Dame over time with incense and benzoin resin (Sancti Spiritus). Or citrus fruits and ginger like being at an Indian market with its typical smell of Patchouli (Pondicherry). Candles are a tradition that transport you to magical places, you cand light one to enjoy some time alone, or set the mood before guests come and visit.
I would like you to visit one of  the Cire Trudon boutiques, found in Paris, London and New York soon. It is a whole sensorial experience, and also have different temporary exhibitions such as Christmas or room sprays that are a basic item in the best French mansions.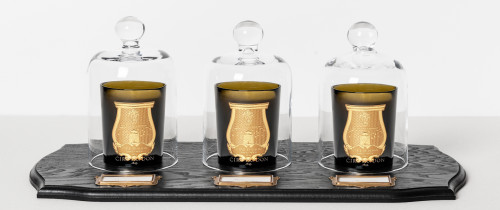 Text/ Guillermo Cárdenas