Entras por el Momofuku Ssäm Bar en el Lower East Side de Manhattan. Momofuku sirve pollo frito o pork shoulder preordenado con días de anticipación, la gente se divierte, pero sigues hasta el fondo del restaurante y llegas a Booker and Dax.
Este bar de inteligencia líquida crea los cocteles más imaginativos y deliciosos para un grupo selecto de no más de 40 personas. El bar es pequeño y sólo pocos conocen su existencia, se jacta de sus técnicas y cuestionamientos de cómo llegar a hacer la mejor bebida con los ingredientes más frescos.
Del menú de bebidas donde puedes escoger combinaciones como Stirred, On the Rocks, Carbonated and Shaken, puedes encontrar cocteles como si estuvieras en un laboratorio químico, utilizando probetas y tubos de ensayo donde se encuentran concentrados de especias, salamandras para derretir azúcar, o bien tanques de nitrógeno líquido para congelar en microsegundos frutas o el vaso donde te servirán tu mágico líquido.
El bar no acepta reservaciones generalmente, te lo recomendamos como aperitivo antes de pasar al Meat Packing District. El menú de Snacks es muy recomendado incluyendo sus famosas alitas de pato con durazno.
Nuestra bebida favorita fue el beribou, hecho de sherry de fresas, vermouth seco, y bitters de naranja.
---
Walk through the Momofuku Ssäm Bar on the Lower East Side of Manhattan. Momofuku serves fried chicken or pork shoulder which you need to preorder in advance, people have fun, but keep to the back of the restaurant and get to Booker and Dax.
This bar of liquid intelligence creates the most imaginative and delicious for a select group of no more than 40 people cocktails. The bar is small and only a few know about its existence, they are proud of their unique technique  to get to do the best drink with the freshest ingredients.
The drinks menu where you can choose combinations as Stirred, On the Rocks, Carbonated and Shaken, you can find cocktails like you're in a lab, using specimens and test tubes which are concentrated spice, salamanders to melt sugar, or tanks of liquid nitrogen to freeze in microseconds fruit or glass where you serve your liquid magic.
The bar does not accept reservations generally, we recommend it as an aperitif before moving to the Meat Packing District. Snacks menu is highly recommended including its famous duck wings peach.
Our favorite drink was the beribou, strawberry fact sherry, dry vermouth and orange bitters.
207 2nd Avenue
entrance on 13th street
New York, NY 10003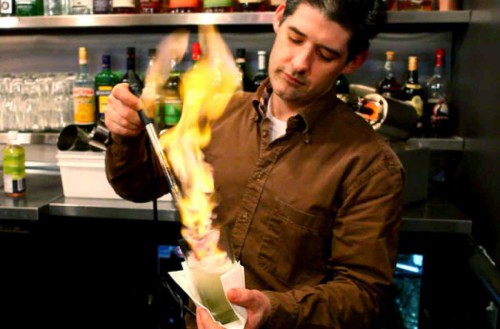 Text / Guillermo Cárdenas